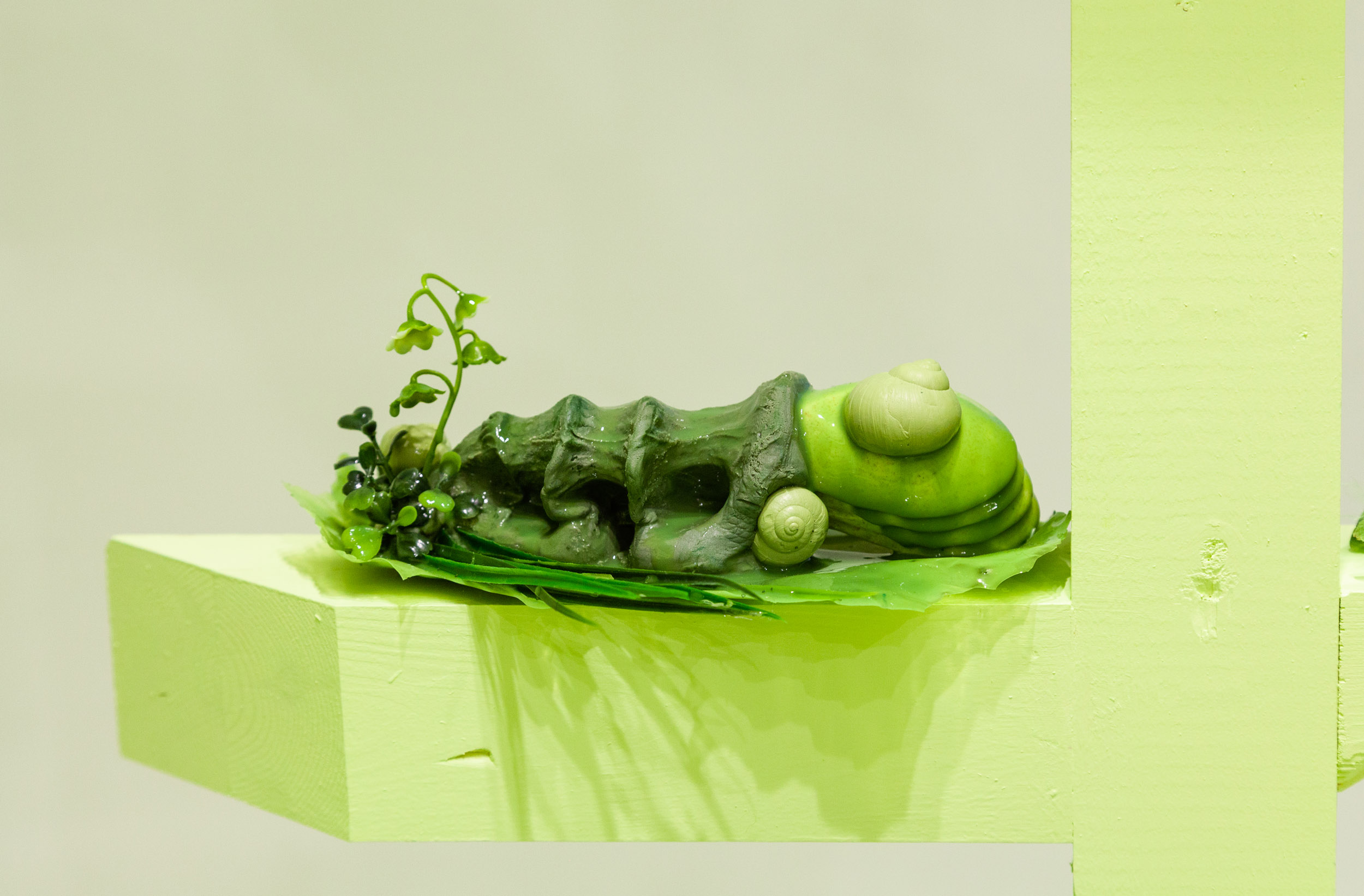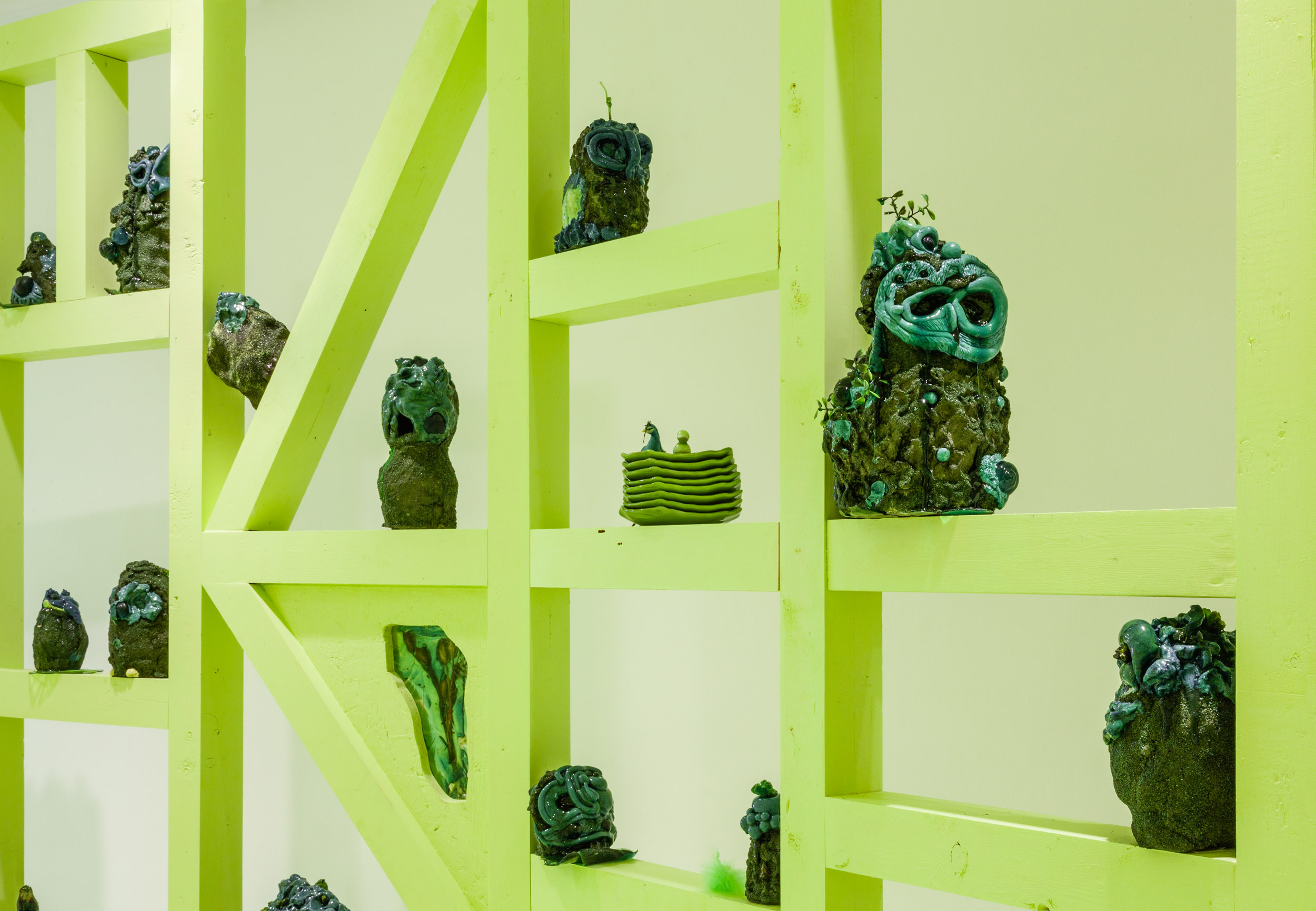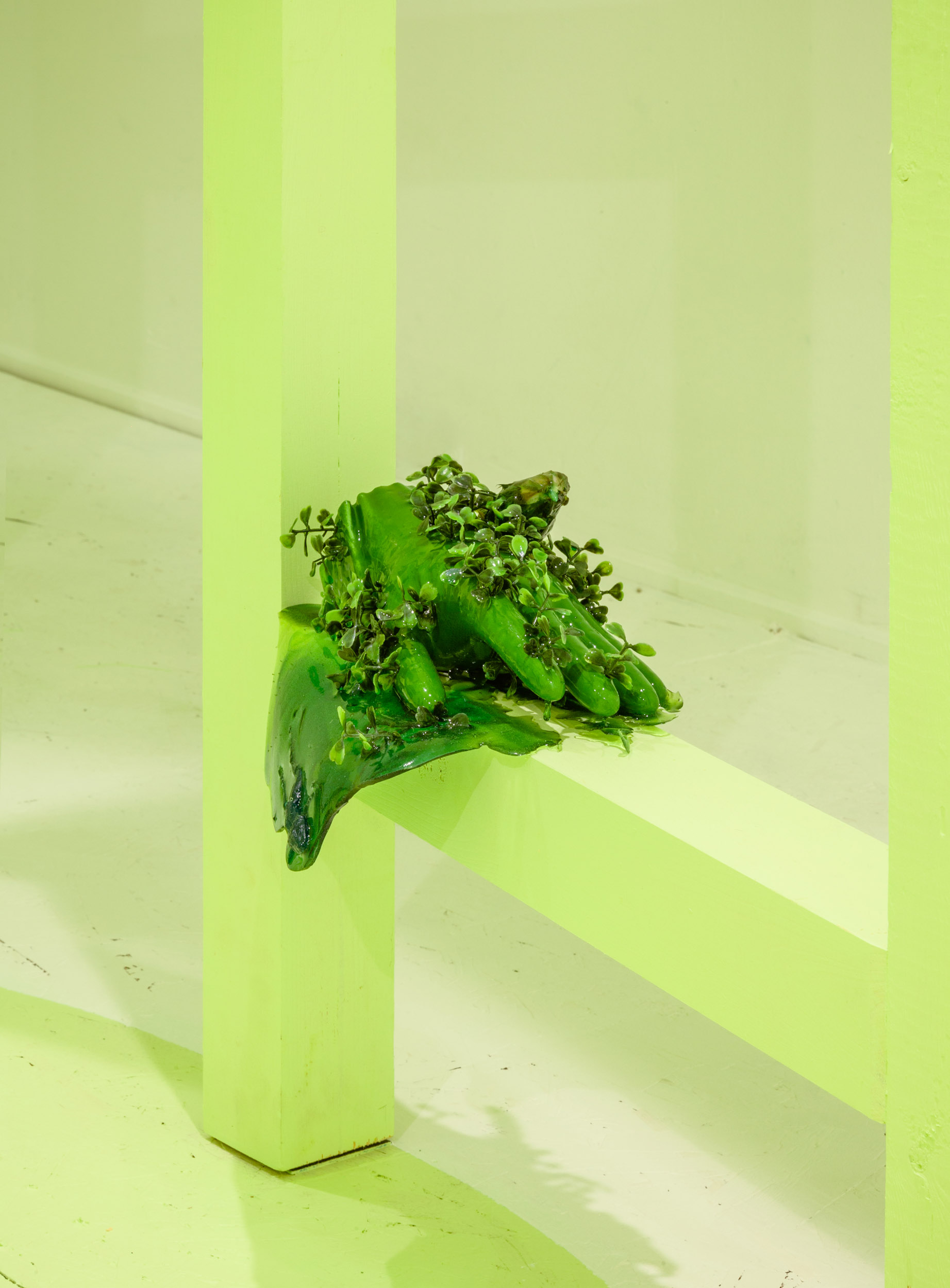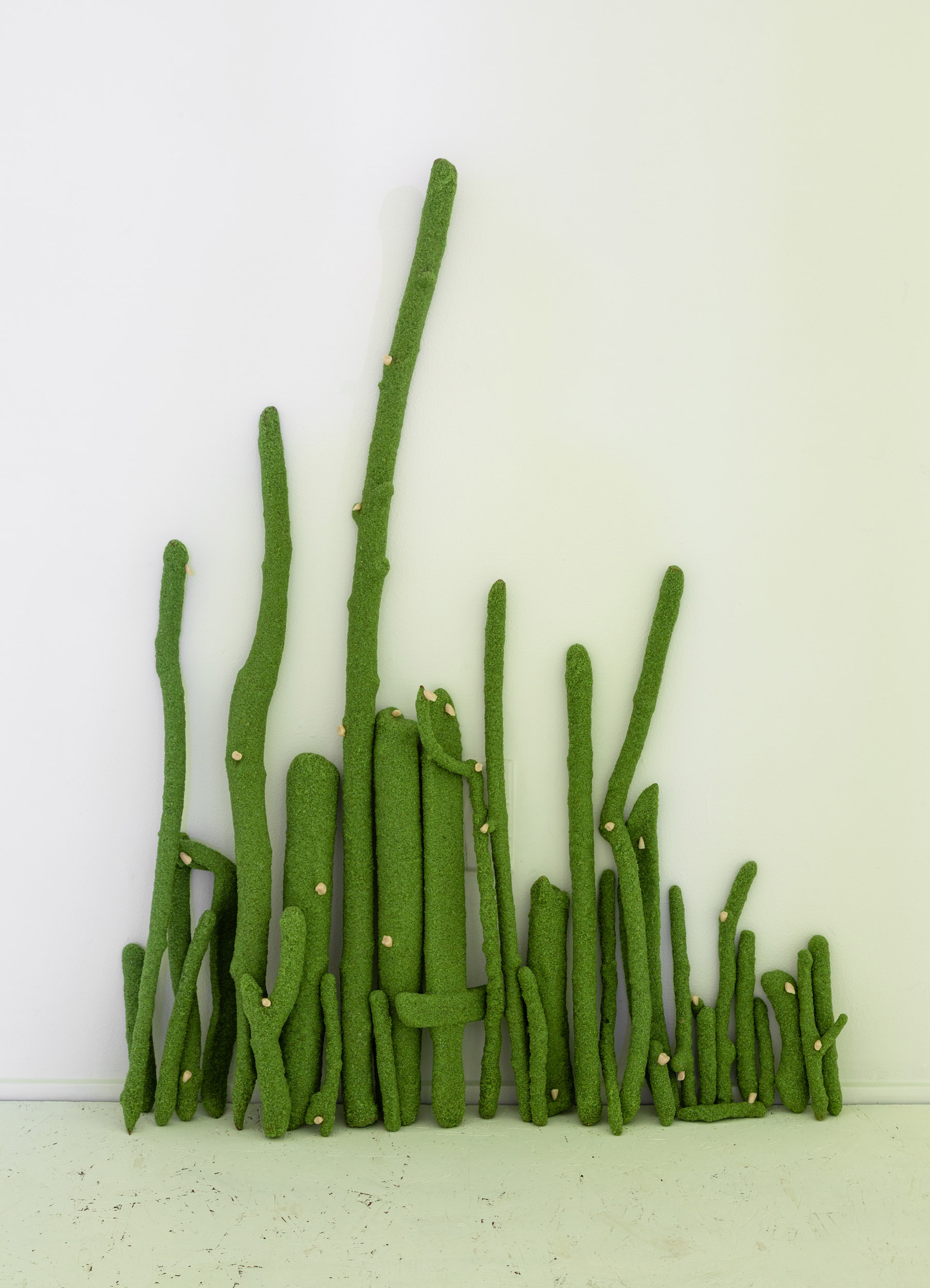 Of, In or Under, September 2018
Of, In or Under is an immersive space consisting of approximately 150 green objects, sculptures, materials, forms and entities.
It is a universe, a cosmos that is simultaneously exterior and interior, natural and artificial, human and non-human, primordial and contemporary. This multi-sensorial world contains organic elements, such as plants and insects, banal goods including toilet paper and dishes, and frogs, snakes, snails, branches, fingers...accurately cast in dynamic green detail and all of which are 'beings'.
The sculptural works, made through acts of casting, assemblage and resurfacing, speak to the significance of transformation, alterity and the complex task of remaining fluid.
The installation is a place-within-a-place-within-a-place echoed by its inhabitants: owls carry and cultivate life for other birds, fingers grow from hands and her overall delivery of excess and materiality addresses the rituals, rhythms and sensations that shape a physical existence.
*Photo credit: Laura Findlay
**Special acknowledgement to The Canada Council for the Arts and The Ontario Arts Council
***Special thanks to Neil Klassen
Rubber-covered cattails in plywood
Rubber-covered branches with dried blossoms in plywood
An Etymology of Things by Hiba Abdallah
"In a world of shifting subjectivities, a lexis for interpretation can be useful. Language shifts as we evolve, creating new dictions to communicate both the internal and external parameters of our minds. In Of, In or Under, a transformation is underway; a vocabulary is necessary to help me circumnavigate the space. That which was one thing, slowly shifts before my eyes into something else. An etymology reveals itself:
Rabsurd: wildly unreasonable, illogical, and inappropriately real.
Nartificial: made or produced by human beings rather than occurring naturally. Copying nature until the lines become blurred between what is artificial and what is organic.
Gones: the pieces of hard, greenish tissues making up the skeleton with which I'm writing these words.
Franches: a part of a tree that grows out from the trunk of the wooden floors.
Cave: a chamber that carries many secrets. It's dry and free from moisture, enclosed and surrounded by green 4 x 4's…"
'Sleeping Area', found objects, sand, tissue paper, resin, rubber, found objects
'Firepit', cast rubber bricks, rocks, crystals, snails, cast resin pebbles, arms, legs with found green feathers and kitchen scrubbies
She vomited green waters by Trevor Mahovsky
"The task at hand is a biography, of sorts, of green. Which green?
Given the context, with our mindset influenced by the sheer materiality of the objects before us, surely we can assume that we aren't talking about the green that we enter like an atmosphere? It can't be the spectral one that blends with us without touching us? It's not the one that is as ethereal as a mood?
No, it is a thick green we can touch. It has wet (slick) and dry (scratchy) aspects. If we stick our hand in it before it sets, it will coagulate and smother. In another incarnation, it might crystallize, so as to encrust. We might decide when to touch it, but it decides when to let go of us.
Still, perhaps this focuses too much on green's body and not enough on its spirit. Does its green-ness reside within the sludge and the crust? Further, maybe the first assumptions we made are wrong as well: after all, even the most diaphanous green touches us. Do not some of the cones of the retina feel it?
So, we are not sure where it is. Where did it come from? Mostly from chemicals. It is psychedelic in that way, being a memory conjured by chemistry.
What does it remember? Chlorophyll. Earths and minerals crushed. Celadonite and glauconite. Malachite. Clay with high iron content, glazed with manganese oxide and quartz, brought to 1150 degrees. Copper, laid in strips with fermented grapes, left to sit, then scraped. Ancient memories. And recent ones: arsenic. These memories are involuntary, and come on like a headache…"
'Reserves/Curiosity Shop', approximately 150-200 cast rubber snails, acorns, seedpods, fingers, hands, mussels, shells, frogs, snakes, mushrooms, crystals, candies, diamonds, rice cakes, gourds, donuts and found objects
A Short Bio...by Danica Evering
"[Who she is][Where she was born][How she does what she does (specifics)][Where she works][Accolades][Recent projects][Affiliations]
Birth (Likely)
We are all one of many, but she was one of many many. In the cool deep, flush with algae and other nice things to eat, she was conceived (the electric connection of two good plans, two clouds in the water). Some 20,000 siblings forming a gooey raft of tiny incubators: clear, round membranes swole like a gasp on contact with the outside. Each centre a tiny dark pupil: the twinkle in the water's eye. They are one and many, a ropy strand. A clutching of pearls in the shadows under the green glass surface…"
'The Taker', hydrostone, sand, paper mache, rubber, feathers, resin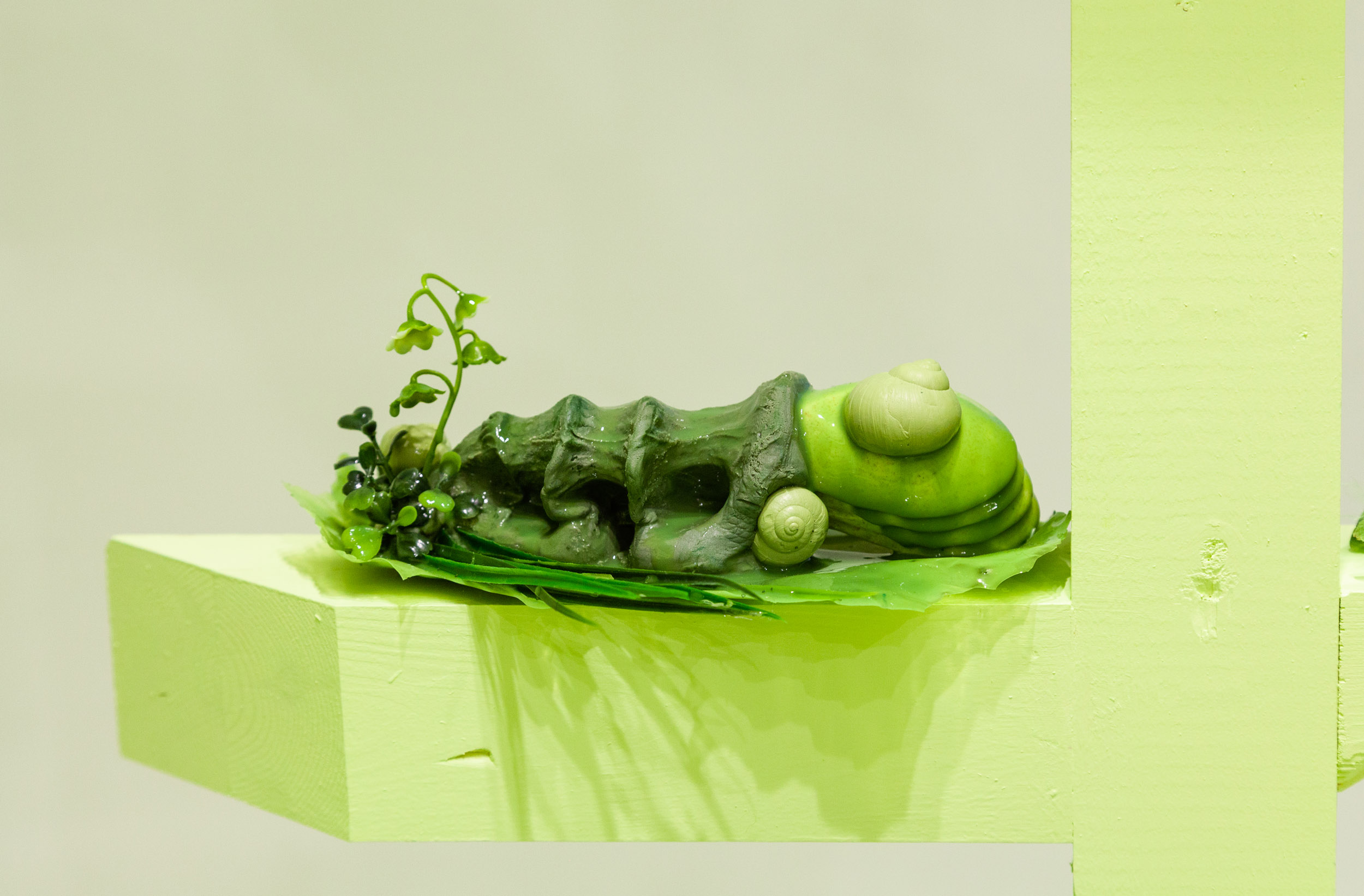 'Come Inside', hydrostone, sand, rubber, resin, found bird, feathers
'Me and My Earth Cult (Owl-as-Self-Portrait) 1-37, thirty-seven found owls resurfaced in sand, paper mache, rubber, resin, epoxy-putty and found objects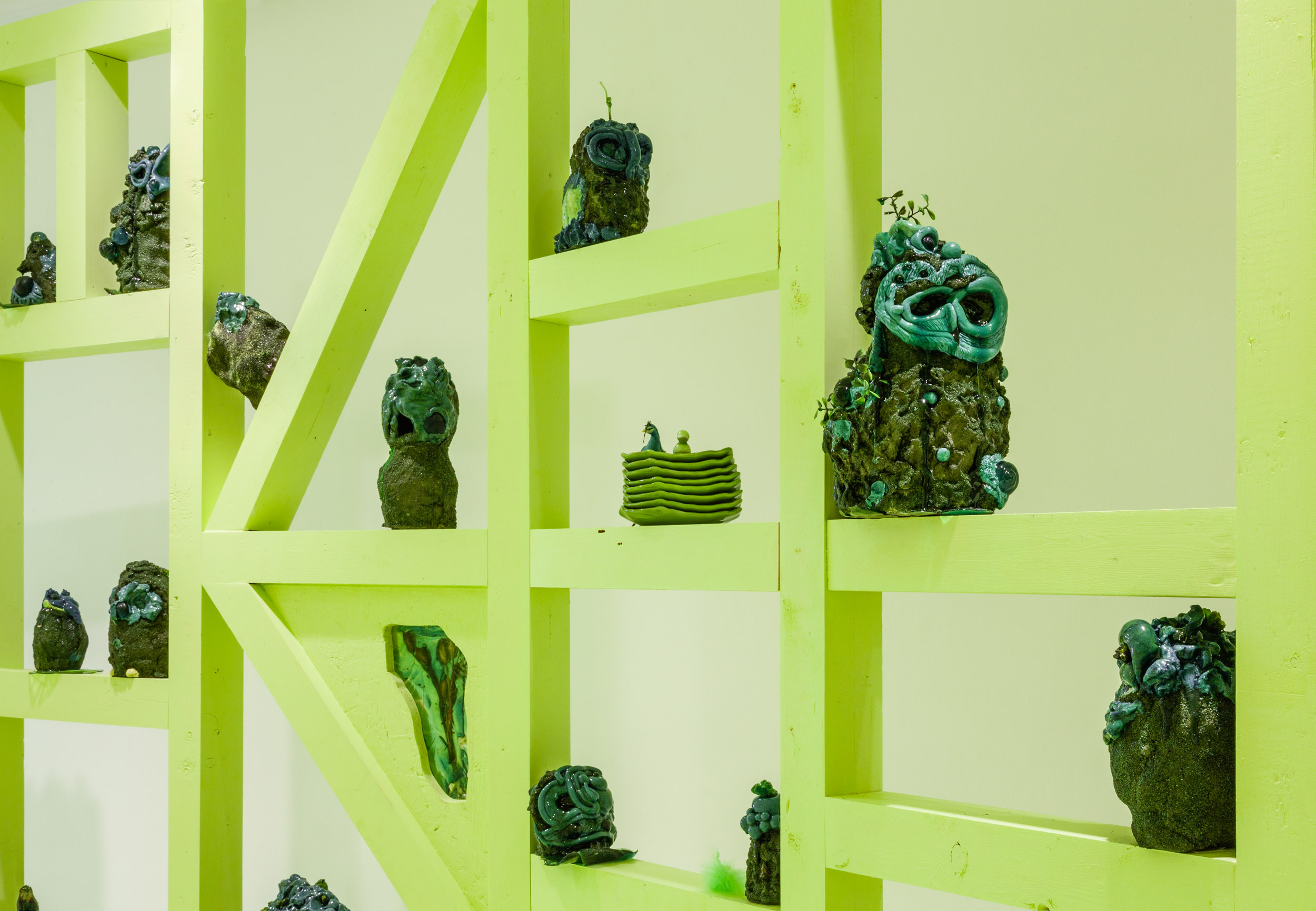 'Dating Dionysus', hydrocal, sand, rubber, resin, found objects
'Rations', found objects, resin, earth, plastic bags, cords, hooks
Rubber-covered feathers in plywood
'Same as Grass and Grow 1', hydrocal, rubber, found faux plants
'Our Habitable W(h)ole' 3, found objects, faux plants, resin, rubber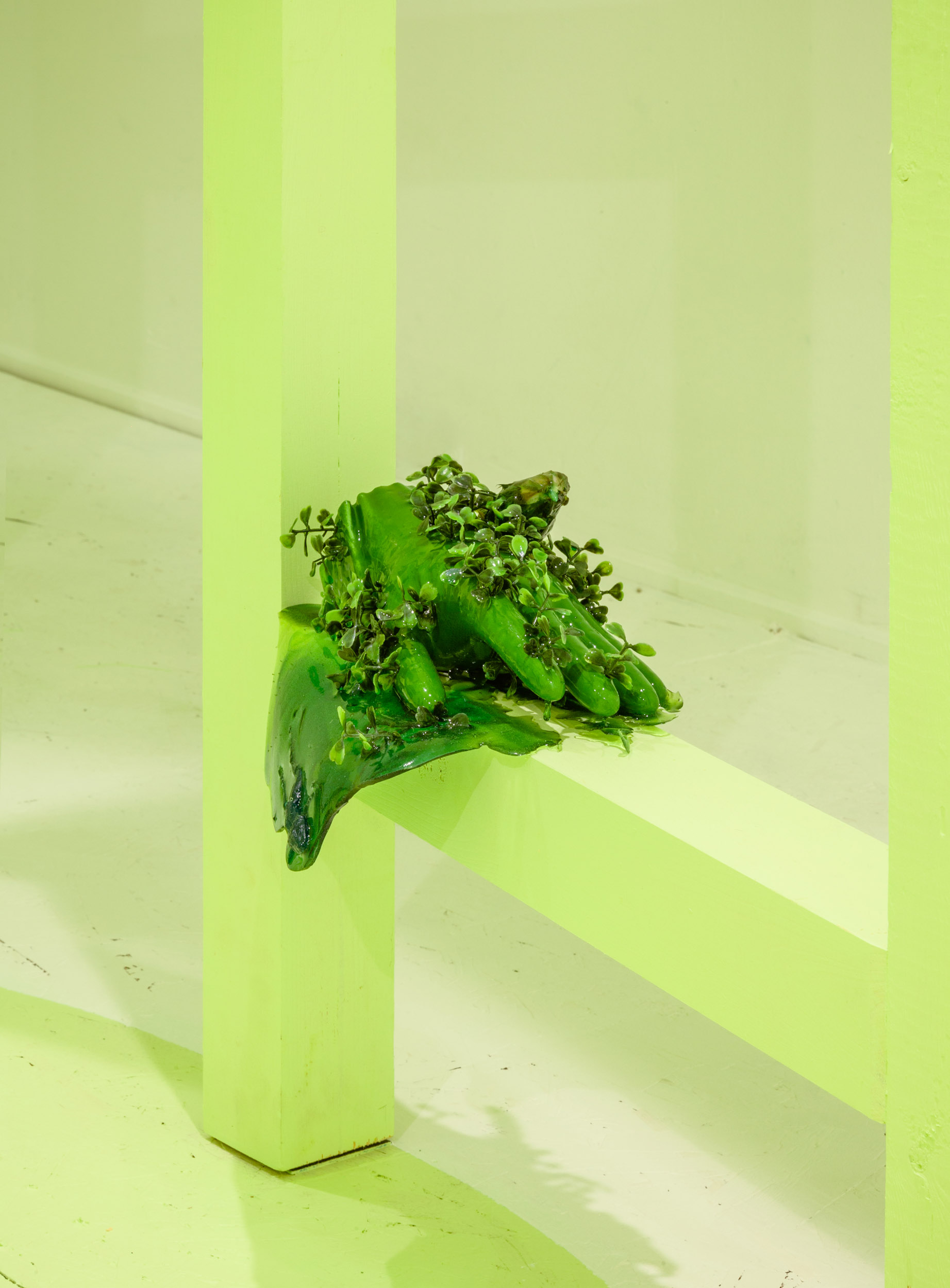 'Same as Grass and Grow 2', hyrdocal, rubber, faux plants, resin
'——', found objects, sand, paper mache, resin, epoxy-putty, bark,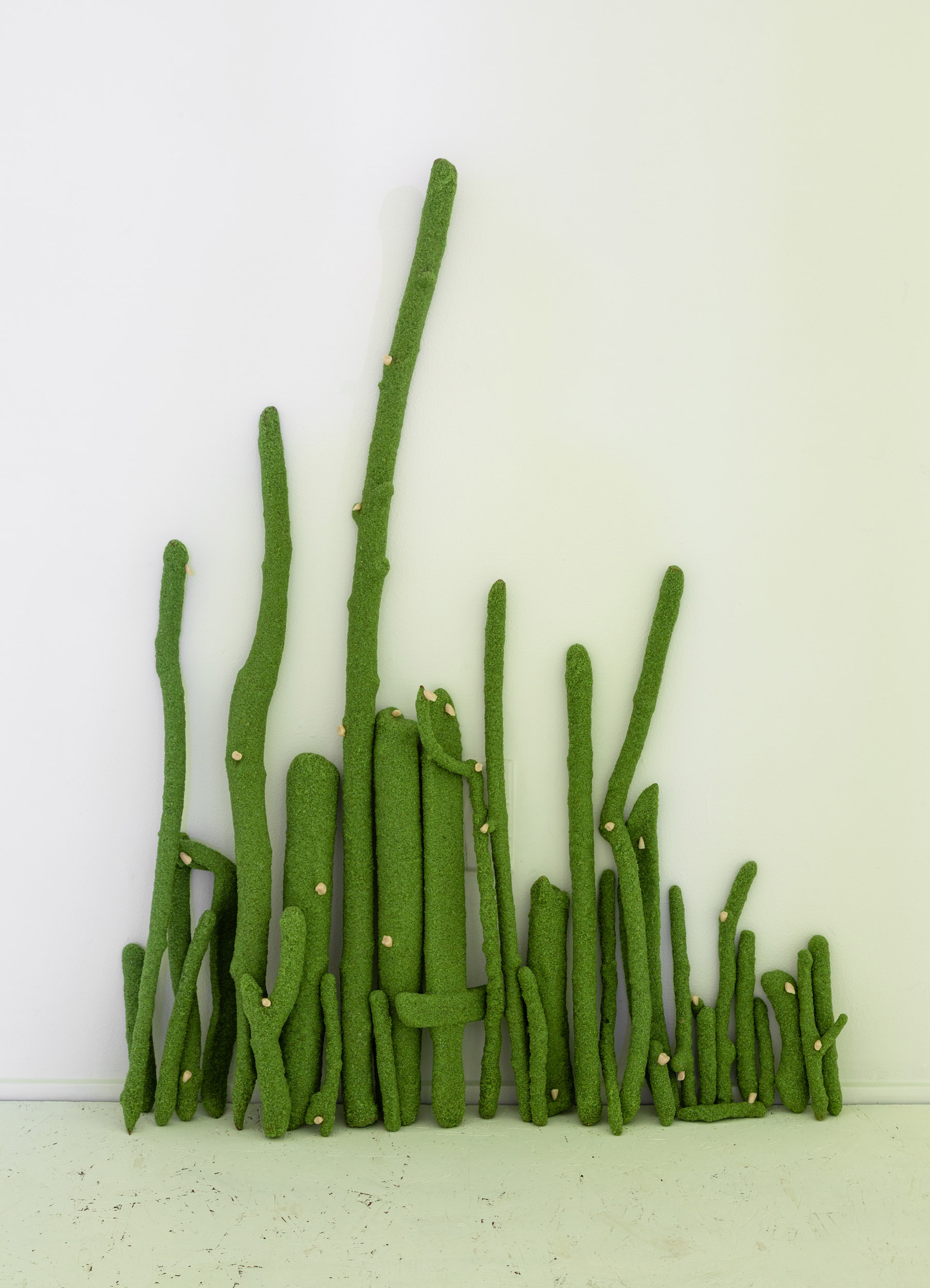 Untitled (Sticks with Teeth), 2018
Found objects, sand, glue
Dimensions Variable
Patrick Cruz
Patrick Cruz performing a freestyle commissioned in response to 'Of, In or Under', September 11th, 2018 at Forest City Gallery, London ON Canada
Chloe Lum
Chloe Lum & Yannick Desranleau wrote an operatic response to 'Of, In or Under' commissioned by Jasmine Reimer and performed by Xuan Yu on September 11th, 2018 at Forest City Gallery, London ON Canada
Xuan Yu
Chloe Lum & Yannick Desranleau wrote an operatic response to Of, In or Under commissioned by Jasmine Reimer and performed by Xuan Yu on September 11th, 2018 at Forest City Gallery, London ON Canada
Yannick Desranleau
Chloe Lum & Yannick Desranleau wrote an operatic response to Of, In or Under commissioned by Jasmine Reimer and performed by Xuan Yu on September 11th, 2018 at Forest City Gallery, London ON Canada
Xuan Yu
Chloe Lum & Yannick Desranleau wrote an operatic response to Of, In or Under commissioned by Jasmine Reimer and performed by Xuan Yu on September 11th, 2018 at Forest City Gallery, London ON Canada